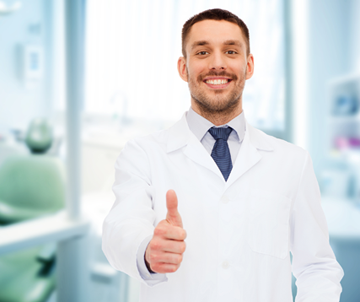 Orthodontics is most often considered a medical specialty that deals primarily with the cosmetic improvement in the alignment of our teeth. Orthodontists like Dr. Matthew Milestone of The Migraine Center of NJ in Essex County, NJ are experienced professionals who work to make our smiles straight and appealing and functional and healthy. But it's the straight and appealing part of the deal that is the real payoff in orthodontics, right? Well, for some people, a straight smile is not the be-all and end-all of orthodontic treatment.
Looking Good.
Most folks don't know that many patients being treated by orthodontists believe that their successful treatment outcomes are more than just their straight smile. Dr. Matthew Milestone says that crooked teeth, narrow bite arches, overbites and underbites may all contribute to the cause of chronic headaches, and many orthodontics patients are being treated as part of a program of pain management and remediation. These patients are working to improve the alignment, spacing, or bite function of their teeth in attempt to ease the pain they feel due to headaches and migraines.
Our teeth are just the most visible part of an interconnected physiology. The whole dental system is made of soft tissues (like your gums), bone, skeletal support structures (like ligaments, nerves, and blood vessels), and muscles all working together in concert to bring you a functional set of teeth. Knowing this, it is not unreasonable to think that some headaches may have their trigger in outstanding or untreated orthodontic issues.
Feeling Good.
All too often, pain management efforts involve taking painkillers to chase the pain. But painkillers have shown to be a pain management method that comes with significant side effects and risks. Painkillers, too, simply ease the symptom (the pain) but don't address the cause of the issue. That's where your orthodontist may be able to help. One Migraine Center of NJ associate mentions that when teeth and jaws don't work together efficiently and effectively, tension exists within the dental structure – and this tension can lead to headaches, neck pain, back and shoulder discomfort, and even migraine headaches. Clenching and/or grinding your teeth and popping and clicking of the jaw joint can be alleviated or eliminated with effective orthodontic treatment.
Orthodontic treatment with braces is designed to apply gentle pressure to move teeth into their optimal position within the mouth. That allows the top and bottom dental arches to work in unison, shapes the arches into their correct position, allows the teeth to interact functionally and comfortably with their neighboring and oppositional teeth, gives the orthodontist an opportunity to address any skeletal deficiencies that may be present, and for all jaw components to be in good alignment.
Your orthodontist understands the relationship between pain and a malocclusion and how these may contribute to headache pain. An experienced orthodontist like Dr. Matthew Milestone and professional staff at The Migraine Center of NJ in Essex County, NJ can show you how treatment may be able to alieve or eliminate your chronic headache pain. For any questions, concerns, or to schedule an appointment with Dr. Matthew Milestone, feel free to call 973-325-1777.
---
Tags: bergen county nj, Bergen County, NJ, new jersey, nj, paramus, paramus nj, passaic, passaic nj, ridgewood, ridgewood nj, rutherford, rutherford nj, saddle brook, saddle brook nj